Santa Rosa, CA MetalRoofing Services
Santa Rosa Roofing offers Free No Commitments roofing consultations with estimates for roofing repairs or replacement. We have only experienced, licensed and insured employees working on your roof. We only use high quality time tested roofing materials.
Metal or Tin Roofing Material
​Metal roofing is costlier that the least expensive asphalt roofing, but has a longer lifespan and better fire and wind resistance. This lightweight option is made of steel, zinc alloy, copper or aluminum. Copper roofs are installed unfinished and eventually develop a green patina over time. Steel roofing commonly comes with a painted finish or zinc coating.
Metal roofs can be installed with exposed or hidden fasteners. Metal roofing is purchased in sheets or shingles that mimic other materials. Depending on the material, the durability ranges from fair to extremely durable and cost can be moderate to very expensive.
​Pros and Cons of Metal Roof
Lifespan
Depending on the quality of the metal shingle and the installation, metal roofs can last 40 to 70 years- only slate lasts longer (70 or more years).
Expense
Metal roofs are 2 or 3 times as expensive that asphalt shingles. This type of roof makes sense if you're going to stay in your home beyond 20 or so years about the time asphalt shingles would need replacement.
Noise Factor
Metal roofing can be very noisy during a heavy rain or hailstorm. Adding more insulation to the back of the shingle helps deaden impact sounds, but it also adds more expense.
Expansion and contraction
Large panels of metal roofing will expand and contract with the weather so they to be install with special fasteners to allow this movement.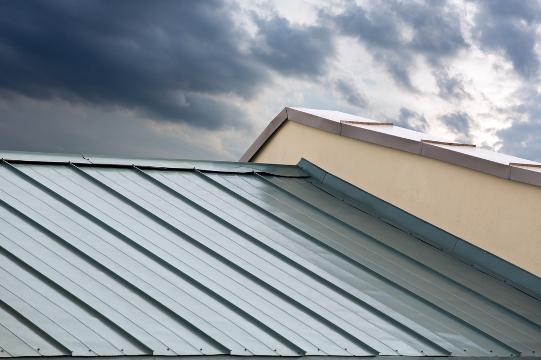 ​Color Match
Years later a color match during a repair may be near impossible because of the weathering of the metal, and color changes of new metal roofing materials.
Water Puddles
If water puddles on the roof because of denting due to hail storms, rust may occur.
Any further questions about metal roofs or other roofing questions please call 1-833-876-6348
© Copyright Santarosa-roofer.com We are Santa Rosa Roofer, a full service roofing company, servicing for over 10 years the Santa Rosa CA area.
Call 1-833-876-6348 for a free quote.